The meaning of think outside the box is the exact thing that Mark Twain quoted "Whenever you find yourself on the side of the majority it  is time to pause and reflect." This quote explains the world.
When we analyze the world and its population, we can conceive that every now and then, there is one individual that divides from the rest and makes an extraordinary change in any kind of sphere. Mark Twain was a genius, Albert Einstein was genius and Steve Jobs was genius. The list can go on for ages, but it still won't form a majority.
Everything has to do with thinking outside the box. It's not about over-thinking more than the rest, but to think differently and make that thinking flow in reality. It's more about creating ideas in material things.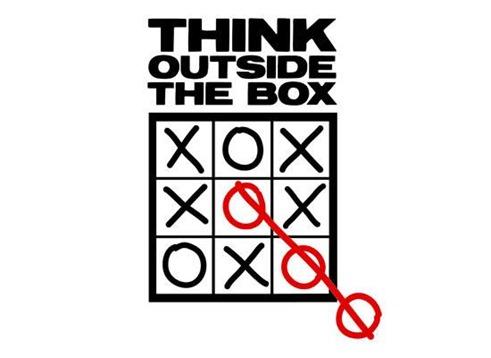 Think outside the box
Beethoven always calculated his coffee beans. He was putting 60 coffee beans in every cup of coffee, not one more or less. Actually, his coffee was stated as pretty good. It's dull to say that his coffee beans made him special, but it has something to do with thinking outside the box.
Most important for us is to support our ideas. I'm pretty sure that all of you reading this now, had at least one idea that will bring you wealth, happiness and cheerful life, but the reason that it still didn't (or I'm happy if it did) is because we think most of our ideas are strange, weird and that they will end up as a failure. It's takes a little f*ck it moment to change everything, and I encourage you to do that. Keep in mind that your idea should bring you satisfaction and it shouldn't harm.
Being logical is not always a way out
"We cannot solve our problems with the same level of thinking that created them" – Albert Einstein
Solving problems is life. The purpose of wasting oxygen is to solve problems, thousands of them. We wake up every day, with the intention to solve problems, whether we like it or not. Problem is "a thing that is difficult to achieve or accomplish" Don't we all want to continue sleeping when we first hear our hated alarm clock? And yet we wake up and solve that problem. It doesn't matter if it's small or big, we still have to deal with it.
Even our vision is sometimes questionable. We have bad days and those days we think stuff that we never should. But it's great that geniuses through history gave us the technique of meditation and other unusual techniques to remove our frown faces. We should strive to get focused mindset including self-control and self-determination. By supporting our thoughts we will always go outside the box because even if they don't want, people will try to reconsider you in every idea. That's where the sheep falls in the herd and stays with the majority. That's the place where thinking will always stay in the box.
If you want to practice ballet, and you are ripped with muscles because you want people to have good opinion about because they think that's man-ish, you will always do the wrong thing. Going against your own will can and WILL bring you misbalance.
"The trouble is, you think you have time" – Buddha
Life passes in a flip of a coin. You can see it by yourself. Not doing things we want is ticking every second away from us. It's unfair for you and for the world to let one genius die without doing things to change something, because if we continue with this tempo we will destroy our planet in a couple of hundred years. It's always comfortable to be safe, but we are not made to be safe because safe is killing every genius from becoming one.
See the box, imagine it, and wreck the wall of that box. Get out of the comfort zone and do what you want now in this exact moment.
Today decide whether you want to kill the genius inside you and stay the way you are, or you want to cooperate with him and bring good in this world, as you are created to do.