Omari Anthony Nyaega, then just 24-years-old, awoke to find intruders breaking into the Kenyan orphanage in which he worked and lived. Nyaega instantly realized something was wrong when he noticed a flashlight shining underneath the crevice of his door.
It wasn't the first time the Faraja Orphanage–located in Ngong on the outskirts of Nairobi–had been attacked. The children's home was the target of three previous attempts that same month. But each time, Nyaega had thwarted off the thugs.
This time, however, a gang of eight had managed to break into the very bedroom where Nyaega slept. In an effort to protect the children, Nyaega instinctively threw a hammer at the attackers.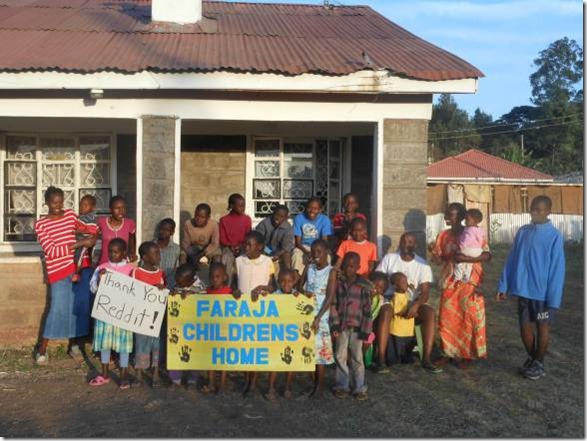 They responded by hacking him in the face with a machete. Near death and mutilated, the next thing he remembers is waking up in the hospital.
Soon after, Nyaega, sporting 12 stitches to his face, returned to Faraja. It was at the orphanage that he first met Ben Hardwick, a 21-year-old Penn State student who was in Kenya on an internship at a nearby organization.
A few days after the attack, Hardwick (or Reddit user TheLake) cheerfully told Nyaega, "I have good news for you: I posted your story on the Internet. On this thing called… Reddit."
Unbeknownst to Nyaega, he had gone viral. Reddit users were so moved by his story that they raised over $80,000 dollars for the orphanage.
Nyaega was shocked but grateful. He humbly told Hardwick, "When you get the money, make sure it's for the kids. I don't want this kind of restitution."
The orphanage's faculty used a portion of the funds to build a fence around the property, hoping that it would protect them from would-be attackers.
We recently caught up with Omari Nyaega, now 28, to find out how he and the orphanage have been doing since his story first broke on Reddit.
Nyaega tells us that before they even finished constructing a wall, intruders had tried to break in yet again.
As for the attackers' motivation? It's hard to speculate. The break-in could have been an attempted burglary. But since the orphanage houses girls, it might have been an attempted rape. "I don't want to imagine that it could have gone to that level," he says.
Luckily, the attackers were never successful again. Nyaega's story had garnered so much publicity, in fact, that the local police took notice. "They were patrolling the roads to the orphanage more. It was really a good thing," he says. Their involvement was unexpected, considering the police never bothered to arrest the original attackers.
And to ensure extra security, the children's home purchased four dogs. "Every time there is a strange movement, they bark. That really made people comfortable."
Just four months ago, however, the orphanage was forced to move to a new location in Loodarak Kajiado county."We couldn't afford paying the rent," he said.
But faculty members consider the new space an improvement. It's much larger than their previous home, meaning they can eventually provide housing for more children.
Since the attack, Nyaega graduated from college with a degree in civil and structural engineering. And he started a family of his own; so he moved out of the orphanage. He's the father of a 1-year-old and 3-year-old boy.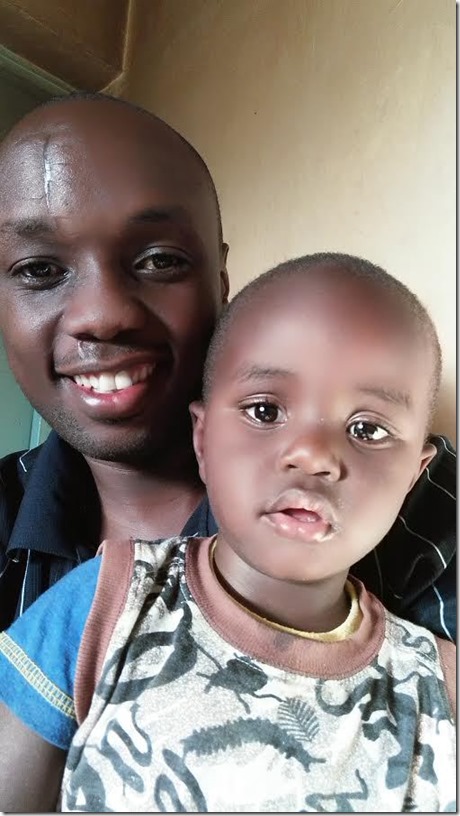 Nyaega no longer works at the orphanage on a daily basis ever since he officially registered his own construction company. But every weekend, he still manages to visit the children at Faraja. During the holiday season, he houses kids in his extra room so that "they have a real family outside of the orphanage."
And he prefers living 20 miles away from where the original attack took place, so that he's not reminded of the incident every day.
He explains:
"I can tell you: it's not done yet. Even my body has adapted. You just wake up at night to see if your kids are okay. It really affected me so badly. I think I became very overprotective (with the kids)."
But according to Nyaega, it was the orphans who suffered most from his attack. Some of them had witnessed their parents being hacked to death prior to living at the orphanage.
"I've also been hacked, and they see blood. You could see a kid staring at you. He thinks you are going to die the next minute. You can imagine that type of trauma."
A psychologist was brought in, but Nyaega says the healing process is ongoing.
When asked about his newfound fame on Reddit, Nyaega laughs. "I need to be honest. I had to lie."
Nyaega didn't want to bring attention to the amount of money that his orphanage had acquired. He told people that his scar was a result of an accident, and he didn't extend the conversation beyond that.
He explains, "The issue of being a celebrity? You don't celebrate this kind of a situation. It's not a good situation for you to go out and be a celebrity."
And in spite of all that he had endured, Nyaega is still very hopeful for the future.
"The magnitude of work that [Reddit] had done, is big. I think some things— I don't know— happen for a reason? Things have been good. The situation has really looked up."
If you'd like to donate to Faraja Orphanage, please follow this link to the Longonot Education Initiative's PayPal page. The organization asks that donors specify in the memo or note of their donation that it is intended for Faraja Orphanage.
Source: Upvoted
Picture courtesy of: Omari Nyaega/Ben Hardwick