While he was only trying to celebrate 500 million active users on Instagram he posted this photo: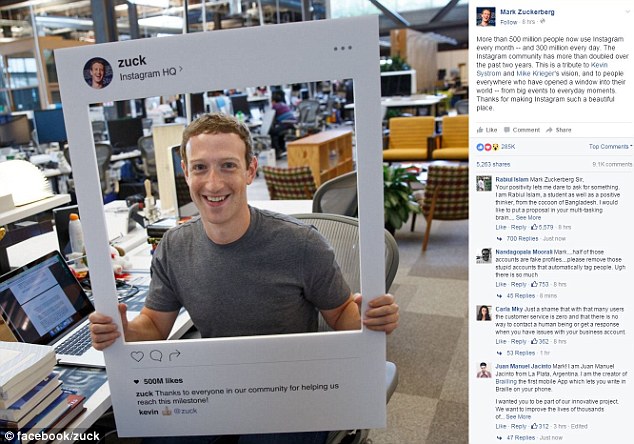 But when photos are posted from highly recognizable figures, such as Mark, things are investigated.
Facebook CEO tapes his camera and audio jack with pieces of tape, and this tells us something about our security.
According to information from Daily Mail it is rumored that skilled hackers are able to take over the front facing cameras on laptops when they're not covered up.
It appears as though Zuckerberg, who is worth $35.7billion, is trying to prevent that from happening by placing a piece of tape over his camera, making the webcam useless.
It also says that Mark us not taking any risks after he was threatened by supporters of ISIS online.
Furthermore, Zuckerberg has no less than 16 people who protect him, his wife Priscilla and their daughter Maxima at their $7million Palo Alto, California home.
In five years, the 31-year-old's company has spent more than $16million protecting him and his family.
The firm disclosed the staggering amount spent on security for Zuckerberg – the fourth richest person in the world – in a regulatory filing back in April.
It reveals that in 2015, $5 million was invested in bodyguards and other protective services to ensure the safety of its founder and CEO.
What's the bottom line:
The reason I posted this is because whenever you think you are safe, you actually aren't. If you live in the mountains with no technology, and you are of no interest to 'the 1%', you may be safe… but if you try to hide your skeletons and use technology (even only one shinbone), I tell you, you are wrong.
So whether you think you have something to hide or not, they can find you through these tiny holes, if they want to.