There's a lot to see while walking through a zoo. From rare creatures from faraway places to more common animals in simulated habitats. However, have you ever wondered what it's like to be the one in a cage? Well, a new zoo is turning that idea on its head.
The Lehe Ledu Wildlife Zoo in China is giving visitors a new take on what a zoo can be. Instead of wondering around a series of enclosures, the animals are given the freedom to roam free while the humans are carted around in cages to gaze at the animals.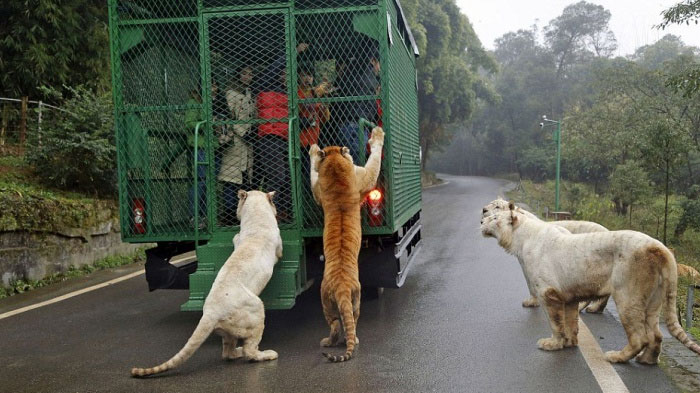 While the idea of a cage may sound like just the opposite, the practice aims to introduce a more humane type of zoo to the world, one where the animals are allowed to live freely and humans are still given the chance to safely observe them.
The zoo, which is located in Chongqing city, China is considered one of the first zoos in the world to offer this alternative to traditional zoos. Giving visitors the opportunity to observe animals like lions, tigers and even bears. Oh my!
While the animals are given the freedom to roam about, live chickens are used to lured the animals out from their hiding places.
These are especially effective in attracting the big cats of the park, which include white tigers and Bengal tigers.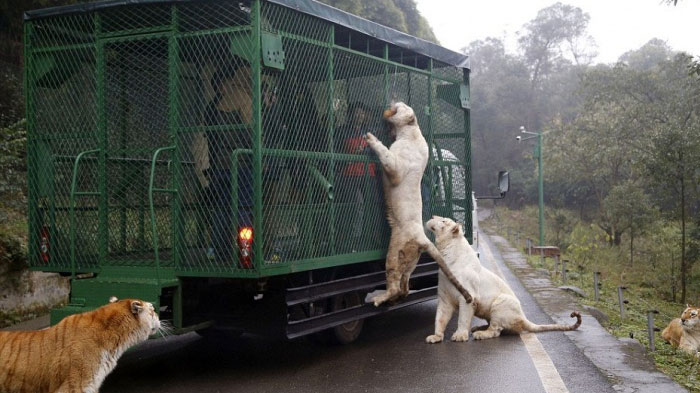 Visitors are even given the chance to feed the large cats themselves, able to offer the cats food through a small opening on the bus, using a metal rod.
However, while most safety precautions have been taken, patrons still must be careful when feeding the animals to ensure they don't lose limbs.
The park was opened in 2015, and it didn't take long for the zoo to become a major tourist attraction in the area.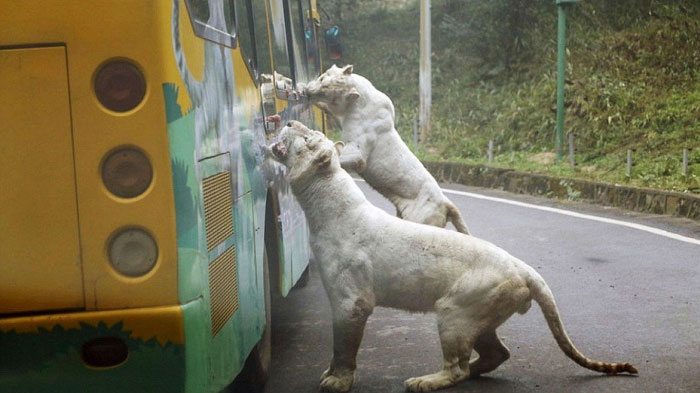 In fact, the initial opening was so successful that tickets to the zoo remained sold out for three straight months. So if you're planning on going, book your tickets now.
In an interview with Oddity Central, the zoo spokeswoman Chan Liang said, "We wanted to give our visitors the thrill of a being stalked and attacked by the big cats but with, of course, none of the risk."
She continued to say, "The guests are warned to keep their fingers and hands inside the cage at all times because a hungry tiger wouldn't know the difference between them and breakfast."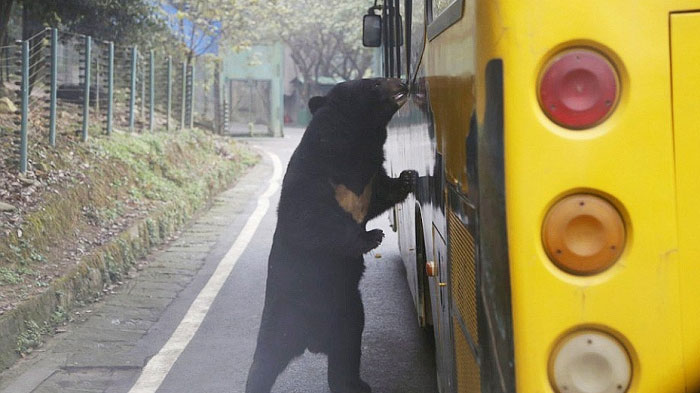 People have responded positively to how the zoo provides a better way of life for the animals while giving visitors a more up close and personal experience with the animals, they wouldn't get at a regular zoo.
This is exactly opposite of the 'Zoo Of Death.'
Originally taken from Now Society