If you're like me, you need ongoing inspiration. Kinda like the right words… ALL the time.
There are many factors that make one person happy, but believe me, reading is helluva factor on that list! Nothing will make you happier like the right book at the right time.
Luckily for you, Emma Seppälä, Ph.D., and Science Director of Stanford University's Center for Compassion and Altruism Research (as an author of a happiness book herself) shared her incredible list of 7 books you must read this summer on Mind Body Green.
She tends to be picky about what she reads — it needs to be inspiring, smart (research-backed), and entertaining.
She found these 7 fabulous new books that fit the picture!
They will truly inspire you, energize you, and motivate you to get up from your lazy a$s and be the best version of yourselves!
1. Barking Up the Wrong Tree: The Surprising Science Behind Why Everything You Know About Success Is (Mostly) Wrong
Legendary viral blogger Eric Barker, whose blog has 300,000 followers, has finally written an epic book in his usual highly entertaining and well-researched style. Eric takes traditional views of success (think "winners never quit and quitters never win" and "good guys finish last") and turns them on their head.
Funny, witty, and highly informative, this book gives you concrete how-to's for reaching your maximum potential while also living a happy and fulfilled life. Eric interviews extraordinary leaders and champions as well as kung fu con artists and Navy SEALS. Put your seatbelt on and get ready to be inspired!
You can buy the book HERE.
2. The Compassionate Achiever: How Helping Others Fuels Success
We often hear that it's a sink-or-swim dog-eat-dog kind of a world. You need to elbow your colleague out of the way; after all it's survival of the fittest out there. But what does the research say? It says we're plain wrong. If we operate with compassion and kindness, we actually get ahead better and further—but we do so while also staying happy and fulfilled, not to mention that we improve our health and increase our longevity.
In this new book by Dr. Christopher Kukk, who successfully turned his university into one of the first compassionate universities, gives us very pragmatic how-to's for how to live a life that has compassion at its core. (And if you like this book, don't miss the classic book on givers, takers, and how givers get ahead by Adam Grant, an all-time favorite book of mine, Give and Take).
You can buy the book HERE.
3. Real Love: The Art of Mindful Connection
Acclaimed meditation teacher Sharon Salzberg has spent decades teaching meditation across the United States and the world. In particular, she introduced the practice of loving-kindness meditation to the West, revolutionizing the way we relate to one another and ourselves. Research that my colleagues and I conducted on Sharon Salzberg's Loving Kindness Meditation actually showed that even seven minutes of practice (try it yourself here) makes you feel happier and more connected to others, and that these changes are also reflected in the brain.
Now Sharon has finally written an epic book on love. It is a moving account of how the quality of our relationship with ourselves—self-love—can deeply affect our relationships with all others. A must-read for anyone who has ever felt that they are hard on themselves and would like to open their hearts even wider—encompassing not just others but also themselves. (And if you love this topic, don't forget the classic book on self-compassion research, a wonderful companion to Sharon's work, Self-Compassion by Dr. Kristin Neff.)
You can buy the book HERE.
4. Into the Magic Shop: A Neurosurgeon's Quest to Discover the Mysteries of the Brain and the Secrets of the Heart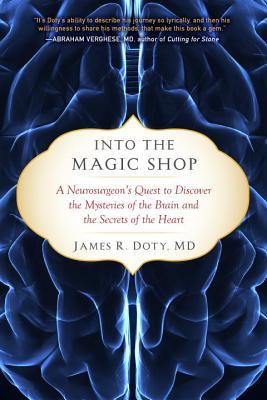 This moving New York Times best-seller by a Stanford neurosurgeon that just came out in paperback will leave you deeply inspired. Dr. James Doty was born into dire poverty, neglected as a child by an alcoholic father and invalid mother. Yet a shopkeeper (of a magic shop of all places!) took him under her wing for a summer and taught him to meditate. For the first time in his life, he felt hope. From those impoverished circumstances, Doty has become one of the nation's top neurosurgeons and founder of Stanford University's Center for Compassion and Altruism Research and Education. Dr. Doty's stories and insights are always deeply moving and insightful. His entertaining and practical explorations of compassion and kindness always touch and inspire.
You can buy the book HERE.
5. The Power of Meaning: Crafting a Life That Matters
In this gorgeous book, Smith explores one of the most fundamental and profound aspects of our lives: What gives us meaning? In a world focused on materialism, achievement, and status, we've all at times felt lost from the lack of meaning of it all.
Smith provides us with a powerful antidote. A combination of stories and research, Smith's moving account delves into what makes us come alive. What makes us feel not only happy but fulfilled? You'll be inspired by Smith's accounts of extraordinary people living a life on purpose. Smith shows us the way to living a more vibrant, fulfilling, and inspired life.
You can buy the book HERE.
6. Option B: Facing Adversity, Building Resilience, and Finding Joy
In this powerful new book by Facebook's Sheryl Sandberg and New York Times best-selling author Adam Grant, the authors explore something fundamental to all of our lives: What happens when we are faced with sudden grief and pain, and how can we gain strength through these experiences? How do we handle our feelings? How do we reconnect with others?
We've all been in a situation where either we ourselves have been going through a hard time or someone else has—and yet we don't know what to do, and neither do those around us. Using research-backed tools and inspirational stories, Sheryl and Adam provide us with the fundamentals of what it means to be resilient and to grow from our difficulties and how we can support others and help them thrive in the face of life's challenges.
A moving and must-read manifesto on how to live life bravely—because like it or not, it comes with its ups and downs. Finally there's a how-to book by two brilliant people to help us through it.
You can buy the book HERE.
7. Awakening Compassion at Work: The Quiet Power That Elevates People and Organizations
Written by two of my favorite colleagues, Jane Dutton and Monica Worline, this book explains how living human values at work—compassion, caring, and affection—can actually enhance our professional potential. With decades of research and examples under their belt, the authors show us that we can be successful and retain our values—in fact, we'll be more successful. Organizations that care about their employees see greater retention, loyalty, customer service, and productivity—not to mention a better bottom line.
Flying in the face of current views that the only way to get good employees is to give them material perks, Dutton and Worline demonstrate that authentic human connection goes much further. Inspiring, practical, and a must-read for everyone who wants to be happier at work and become a more powerful leader.
You can buy the book HERE.