Did you know that you can relieve your body from pain by simply touching specific parts of your feet? This is a method known as reflexology.
In this method, your blood flow is increased by the stimulation of some specific pressure points in your feet and hands.
As these pressure points happen to be directly connected to the nervous system and thus to the body's organ and the glands, this method of therapy allows the strengthening of specific areas of your body.
What happens when you have reflexology done?
Everybody goes through a different sensation. However, you are likely to experience a tingling sensation throughout your body. This method of therapy won't cause any sort of tension in the body. Instead, it will relax your entire being. You are likely to feel precipitation on your feet. So you might feel a bit cold.
You also need to take deep breaths and might feel drowsy. As the therapy keeps on progressing, your muscles will star to loosen up, and you'll feel less pain and discomfort.
This type of therapy is usually done by therapists that have studied ancient art. However, if you wish to do it yourself all you need to do is consult one foot chart (like the one bellow) and then map out the ailment that will lead you to the exact pressure point you need to address.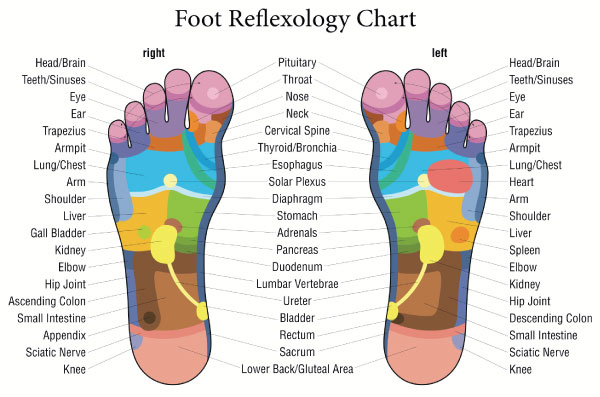 Then with your thumb and fingers slowly massage and knead the pressure point. Continue massaging and kneading for 10 minutes and then do an overall foot massage. You will need to take deep breathes throughout the entire process.
Watch: Alternative Medicine Reveals 5 Reflexology Secrets Hidden In The Palm Of Your Hand [Video]
How to read the reflexology foot chart?
At first, you might find the food chart a bit overwhelming, but don't worry. Overtime you'll get the hang of it. On the chart, every organ and its pressure point have been mentioned.
You could do an overall massage first or you could tackle one pressure point. There is no right way of doing it. You can start with any foot you like. You'll need to switch the foot once you're done with one of the pressure points.
If you don't know what to do or where to start, begin with your toes and slowly make your way down. Make sure to observe how your body feels and how it's responding to the massage.
Touchpoints for some common ailments:
For Headaches massage the big toes and apply pressure onto the upper halves of each of your toe.
For digestive issues, the pressure points are on the bottom of the foot.
For back pain, you need to massage the bottom half of each foot.
There are many other ailments that can be relieved with these pressure points.
You have to understand that reflexology does not provide an immediate cure. It lessens the pain but doesn't make it go away in one attempt.
Over time you will notice a lot of change in your pain but do not consider it as diagnosing tool. Also, make sure to consult a doctor before you start using this method of therapy for treating any sort of pain.